Gentle Birthing "The Jeyarani Way" Labour - MP3 Download or Itunes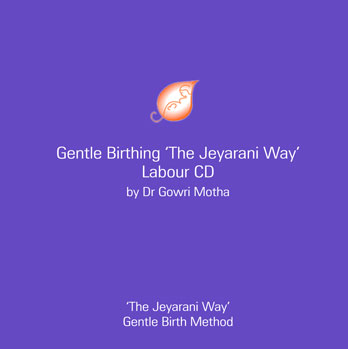 Gentle Birthing "The Jeyarani Way" Labour - MP3 Download or Itunes
NOTE: You should download the MP3 on a computer, not on a mobile device (unless your device can unzip .zip files).
Labour CD by Dr Gowri Motha – to listen during birthing
Track 1
Specific encouraging suggestions are included. This track can be listened to repeatedly from the onset of contractions all along the way through to the full dilation of the cervix. The suggestions help to encourage cervical dilation and descent of the baby's head into the lowest part of the vagina. The suggestions help the mother to manage her contractions and rest deeply between contractions.
Track 2
This track can be listened to during the second stage of labour when the cervix is fully dilated. The suggestions included make the uterus work more powerfully and this helps the baby's head to crown easily and then the whole baby to be born. This track encourages and supports the mother mentally during the delivery of the baby and the delivery of the placenta.
Reviews:
Kasia gave me the CD on the Wednesday before my due date (Saturday) and asked me to listen to it as soon as I could. I was quite busy on Wednesday and Thursday and finally found time to listen to it on Friday night at 11 pm. My waters broke at 12.40 am on Saturday – just in time! The CD was a great help and I listened to it throughout labour. Gowri seemed to say all the right things at the right time. It helped me and my husband stay calm throughout.- Sareeta Pattni